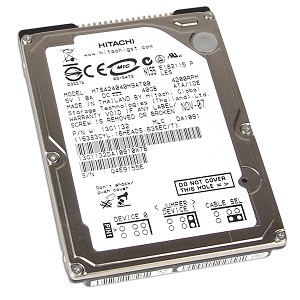 HITACHI 2.5″ 40 GB IDE/PATA 4200 RPM 2MB HDD HTS424040M9AT00
49.99€ Με φπα 24%
Κωδικός:50-bbn-7-98 | Διαθέσιμο ή πολύ σύντομα διαθέσιμο (1-3 εργάσιμες αναμονή.- Τηλεφωνήστε για πιο σίγουρα στο: 2102799890 ή στο email:[email protected]) Αν πληρώσετε με Paypal, Πιστωτική ή Κατάθεση τα έξοδα αποστολής είναι μόνο +5.5€. Με Αντικαταβολή για Αττική είναι +5.99 € και για επαρχία +7.98 €. Εάν μένετε Αθήνα μπορείτε να παραλάβετε την παραγγελία σας από το κατάστημα στην Ν. Ιωνία.
Κάντε μια ερώτηση σχετικά με το προϊόν
Περιγραφή
HITACHI 2.5″ 40 GB IDE/PATA 4200 RPM 2MB HDD HTS424040M9AT00
Detailed item info
Product Description
Store all your files in the high-performance Travelstar 4K40 measuring 2.5 inches. With spindle speed of 4200RPM, this Hitachi 40GB hard drive offers speedy transfer and loading of files to your PC. This internal hard drive offers 2MB buffer speed that also helps in boosting the overall speed of your system. The optimized single disk design of this Travelstar 4K40 results in improved shock rating. The 300Gs operating shock feature of this Hitachi 40GB hard drive provides tougher handling and improved portability. The ATA-6 interface of this internal hard drive ensures consistent and reliable performance.
Product Features
Craftmanship of design
The Hitachi Travelstar 4K40 series continues to redefine state-of-the-art storage for mobile computing. With industry-leading shock characteristics, efficient power consumption, outκάτοχοςing acoustics, and a range of capacities, the Hitachi Travelstar 4K40 raises the κάτοχοςard for ruggedness. Designed to address the most demanding applications this drive offers customers a stable design platform for even the most advanced portable devices. The Travelstar 4K40 is based on an industry leading design that has been made even better. Simply put, it is hard drive artistry!
Performance, quality and reliability
Designed with mobile life styles in mind, the Travelstar 4K40 leverages proven technologies such as True Track Servo, which eases system integration, enhances hard disk drive reliability, and adds robustness against vibration and disk shift, Drive Fitness Test (DFT), Self-Monitoring Analysis and Reporting Technology (S.M.A.R.T.) to enable a hard drive to predict impending catastrophic failure, and an adaptive control algorithm to help maintain high performance and fast seek times at high environmental temperatures.
Product Identifiers
Brand Hitachi
Model Travelstar 4K40
UPC 683728185961
Key Features
Enclosure Internal
Capacity 40GB
Buffer Size 2MB
Hard Drive Type HDD
Spindle Speed 4200RPM
Interface ATA/ATAPI-6, DMA/ATA-100 (Ultra)
Designation Laptop Computer
Technical Features
Platform PC
External Data Transfer Rate 100Mbps
Internal Data Transfer Rate 46.25 Mbit/s
Form Factor 2.5″
Seek Time 12 ms
Sound Emission 26 dB
Dimensions
Height 0.37 in.
Width 2.76 in.
Depth 3.94 in.
Weight 0.21 lbs