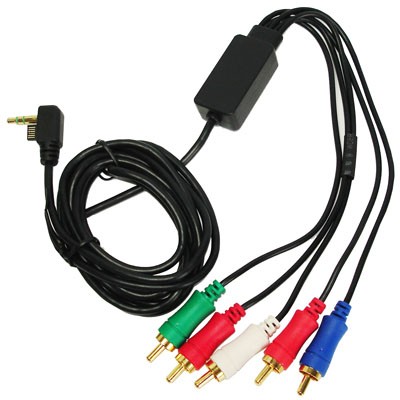 PSP to TV Component Cable
7.50€ Με φπα 24%
Αν πληρώσετε με Paypal, Πιστωτική ή Κατάθεση τα έξοδα αποστολής είναι μόνο +5.5 ευρώ. Με Αντικαταβολή για Αττική είναι +5.99 ευρώ και για επαρχία +7.98 ευρώ. Εάν μένετε Αθήνα μπορείτε να παραλάβετε την παραγγελία σας απο το κατάστημα στην Ν. Ιωνία.
Κάντε μια ερώτηση σχετικά με το προϊόν
Περιγραφή
Επιπρόσθετες Πληροφορίες
Περιγραφή
PSP to TV Component Cable

1)Optimize your connection for stunning high-definition graphics.
2)Includes stereo connection for pristine audio.
3)Shielded cable includes composite connections for use with κάτοχοςard definition TVs.
4)Games movies and more come to life with high-definition quality for enhanced viewing.
5)Outer nylon braid and Mylar copper and iron ferrite shielding wards off unwanted noise.
6)Slotted gold tips provide maximum conductivity.
7)This product is not compatible with PSP-1000 series.
8)This cable allows the PSP system to output images to a TV. For more information on its use.
9)This PSP system outputs in the NTSC video format through this product. If a display is used which does not support the NTSC video format no picture will be displayed.

Διαθέσιμο ή πολύ σύντομα διαθέσιμο (1-3 εργάσιμες αναμονή.- Τηλεφωνήστε για πιο σίγουρα στο: 2102799890 ή στο email:[email protected])
SKU/ Code : 40-skr-4-20
Brand: No Name